Ryakuga's 25th Birtday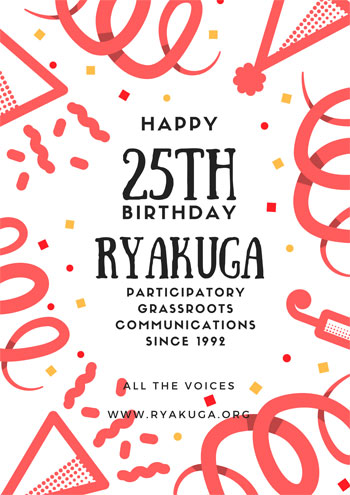 Ryakuga is a not-for-profit grassroots communications company registered in 1992 in Newfoundland, Canada.

Our purpose is to promote local/community communications in a global context.

Ryakuga philosophy is equality and the right of all people to control their own lives. Modern media and its technology tends to alienate and silence ordinary people who remain passive observers.

Helping people take control of the media process not only facilitates communications within the community but it also develops confidence and self esteem among the participants.

By communicating through control of technology, people become aware they can analyze their situation and develop strategies for positive change.

The Ryakuga experience is grassroots community development - respecting local knowledge and helping ordinary people share their experience with others.

We don't support development which replaces local knowledge and values with imported educational, economic and cultural systems.

We do support the revitalization of rural communities and their ways of life.

We participate in projects with rural communities; indigenous peoples; inshore fishers; environmental organizations; women's groups; youth, and seniors.

Our main focus is alternative media - participant controlled community television, newsletter/photography, community radio and grassroots computer communications.

Ryakuga helps groups with training (technical skills); collaborative participation (working alongside groups as they make their own communications), or production of resources (we have resource material available for newsletter\photography; video skills; community radio, and community television - public forums and popular video).

Promoting cultural retrieval as a way of strengthening local pride and confidence in the future is a primary focus of the work of Ryakuga.