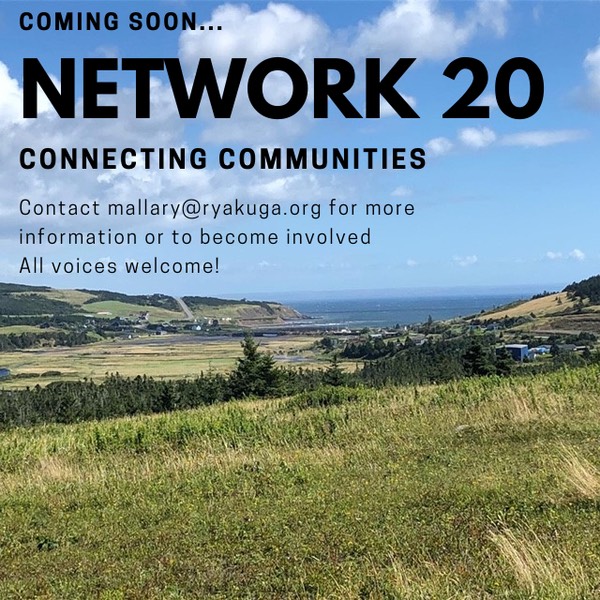 Stay tuned for Network 20! Zoom and Internet Radio in December !

Contact mallary@ryakuga.org

Nine years since we began - thoughts about the Network

1. The Rural Secretariat was the main funder of the initial Network formation event. Ryakuga was hired to design and
co-ordinate what turned out to be the Network 11 Unconference. Community radio volunteers (and people who had
participated in special events) came from Bell Island; White Bay; Burnt Islands; Corner Brook; St. Anthony;
Rocky Harbour; Fogo Island, and other communities to the Cottage Hospital and the Marine Station.

The Rural Secretariat funded the event; the zone board made a contribution, and Grenfell reimbursed car travel.

2. Since 2011 there has been a meeting every year, usually linked to a Ryakuga special FM radio event. Often there
will be people in the room with external participation by Skype or telephone. The University of Guelph has called in
as well as the Campus Community Radio Association, Telecommunities Canada and Farm Radio. Community Radio stations
have given annual reports. Ryakuga typically prerecords interviews and makes a playlist which includes music and voice.
The programming is mixed live and voice.

3. It is important to note that there is no funding nor control of the Network. The concept is people participate freely
as community volunteers. The entire event is live on internet radio and/or on FM radio and - this year - on Zoom.
Anybody may record the event and there is no registration or passcode.

4. The live webcast can, of course, be heard all over the world and is configured to be accessible by minimal internet
connections. The webcast and broadcast are accompanied by a live webpage - with Facebook and Tweets so information
is continually updated.

5. Nobody owns the Network - it operates by free association. Network participants typically offer support
to other communities who may, for example, need help filling out a community radio application or technical information.

6. The Network is an open system.