SHARING OUR FUTURE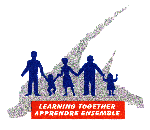 Sharing Our Future is sponsored by the Community Education Network (CEN). The major funding partner of the six month developmental phase (completed in April, 2000) and the two year pilot project (beginning in September, 2000) is the Office of Learning Technologies with contributions by CEN, Ryakuga and participating community partners.


---
THE ORIGINAL CONCEPT
Where? Sou'west Newfoundland encompassing two regional economic development zones and two school board districts.

When? We want to enhance and replicate community capacity building, skills development and participatory communications activities that have been evolving here for the past decade.

How? We will utilize the skills and enthusiasm of youth to develop a community based participatory communications network that will be grown locally while simultaneously reaching out to other communities in sou'west Newfoundland and Atlantic Canada, as well as expatriate Newfoundlanders living elsewhere in Canada.

Why? Rural Newfoundland communities are at risk and youth out-migration has reached an unprecedented level. Communities without youth are not viable communities. If we are to have a future, youth must become involved in planning that future - not only here, but throughout Atlantic Canada. Expatriates should also have a chance to contribute to the well-being of their home comunities.

What technologies? We have extensive experience in utilizing community television as a tool for not only sharing information but more importantly in a two way process of public consultation. This process is locally controlled and implemented - developing not only skills but also self esteem and the ability to analyze issues, build consensus and plan for the future.

We also have experience implementing similar processes with participatory community radio.

The prime vehicle for "sharing our future" beyond the local would be the internet. We have already used webcams and interactive bulletin boards plugged into our community television events. We are also experimenting with video conferencing and webcasting.

Important: We are not talking about a youth sector based initiative. Traditional Newfoundland community activities are inter-generational. Because youth are not afraid of technology and easily learn the required skills, they are the obvious vehicle to implement its use for the whole community, from the local to the regional to the national.

What has happened before?

1. The Community Education Network (formerly the Port au Port Community Education Network).

2. Communication for Survival.

3. Ryakuga Community Communications (facilitating community participatory communications activity locally, regionally and internationally since 1992).

4. Youth, Environment and the Economy conferences.

5. Long Range Regional Economic Development Board public consultation.

6. Communities In Schools Newfoundland.

Evaluation: We would build in a participatory evaluation (with small format video as a data collection tool) similar to the innovative process developed by Communities In Schools Newfoundland.

Implementation: The program will require overall co-ordination; activities (such as community television forums) seeded in communities in stages; locally controlled steering committees, and local co-ordinators.

Each implementation must be designed to meet the needs, skills and resources of the specific community and and must be set up so it can be fine-tuned over time. Although the program will use the resources of the schools, its implementation is community based according to an informal, experential pedagogy.

Specifically, this means that the participants will move from a school setting to the community, not only to work with local media employers but also to use the economic, social and political experience of the community as the content of the program. Spinoffs of this approach are improved communications within the community itself and developing awareness of the rights and responsibilities of citizenship amongst the participants.