Youth Conference
SETTING THE STAGE
Stephenville, Newfoundland,
October 3 and 4, 1997
---
This page was created by youth at a conference in Stephenville, Newfoundland. Participating were members of St. John Central High (Burgeo), St.Boniface All grade (Ramea), St. Stephens's High (Stephenville), Bishop O'Reilly High (Port au Port), St.Joseph's High (St. Georges). Students from Kippens, Campbells Creek, Flat Bay, St.Teresa, and Noles Pond also showed up.
For more information, get in touch with one of our e-mail contacts.
David Tucker at bookeefe@calvin.stemnet.nf.ca
shonisanerd@hotmail.com





---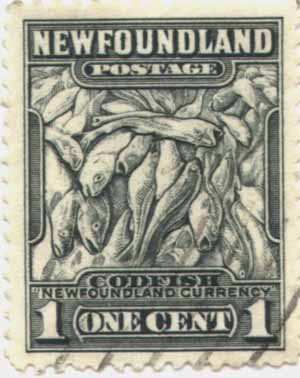 CONFERENCE PARTICIPANTS WHO WANT TO ADD STUFF TO THE PAGE (SUCH AS ASKING FOR ANOTHER PHOTO), CLICK THE COD TO SEND AN EMAIL. LET US KNOW WHEN YOU VIVOACTIVATE AND WE CAN ADD MORE MUSIC.
---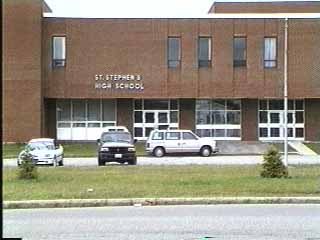 ---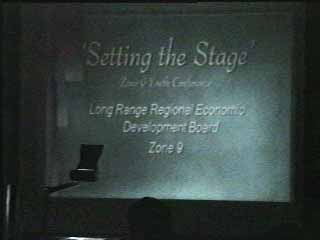 ---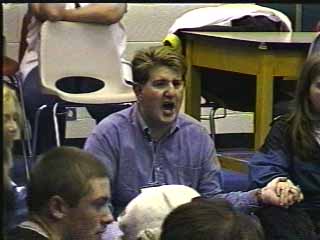 ---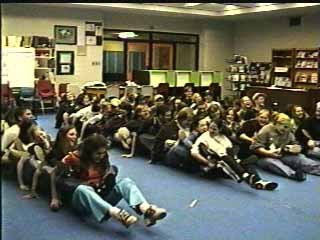 ---
ALL THE VOICES
Liela Murphy,
St. George's

I think an important issue of today is discrimination of youth. It seems that society has labelled youth in a negative way, and I feel that this attitude needs to be changed.


Albert Snook,
St. George's

One big issue is to teach young people about safety in the woods because people in Newfoundland spend a lot of time in the woods. I think they should be educated in case they get lost.


Alison White,
St. George's

Due to the recent suicide in Stephenville, I think teen suicide is a big issue for youth today.


Travis Jesso,
Port au Port

The big issue in Newfoundland youth today is sustance abuse.


Megan Gale,
Port au Port

A big issue for Newfoundland youth today is substance abuse. Many teens totally abuse alcohol or drugs and this leads to many problems.



Tammy LaCasta,
Port au Port

Abortion, because today a lot of teens are getting pregnant and for some they need an abortion, however, teens should be aware that they are killing a human being and that abortions are wrong, and that more should practice safe sex.



Natasha Hynes,
Port au Port East

The possible closing of O'Reilly. We don't want it to close because our school rocks!


Tara Neal,
Stephenville

Jobs are a big issue in Newfoundland today, especially for youth. Will we have to move away? A lot of us don't want to but we don't really have a choice. Unless, we make our own jobs.

Leona Simms,
Burgeo
Employment is one big issue. Many young people wonder if they'll get a job or if their education is good enough to get one.

Morgan Peters,
Stephenville

A big concern for me is people leaving the province. It seems the exodus is created by all or most of these other factors. I think we need to try to keep these people here. This is because the majority of the people leaving are the ones with skill and a future. Newfoundland really needs them in our province.


Janice Goder
St. Theresa's

Employment is the major youth issue in Newfoundland


Jonathan Stewart
Ramea

Violence is stupid. It's barbaric and unecessary.


Stephen Rossiter
Ramea

Violence is a big issue because everyone fights. Every one solves their problems by violence. It's so stupid, and you can solve your problems through other means.


Justin Burke
Ramea

Employment.


Dominiqe Augustus
Ramea

The bis issue for newfoundland youth is employment. There's little employment, and us youth have to find work.


Bobbie Keeping
Ramea

I think that teen pregnancy is a big issue for Newfoundland youth today. Many teens are having unprotected sex which results in pregnancy. Many teens are not responsible enough to take care of a child and therefore they have abortions.


Terri Lynn Hayman
Ramea

Lack of communication.


Jackie Lushman
Ramea

AIDS - I think they should try harder to find a cure.


Sheena MacDonald
Ramea

I want to cure cancer.


Stephen Parsons
Burgeo

Lack of recreation.


Pamela Rose
Burgeo

Lack of recreation


Jody A. Simms
Burgeo

Lack of recreation.


Staci Hopkins
Stephenville

Our big issue for Newfoundland youth today is being heard. Many teens become frustrated with adults who claim they want to hear what we are concerned about., but then when we do open up, they usually ignore our answers. Not to say all adults do that, but a majority does. We as youth today need to find a positive way to get our messages across about education, employment, and the future of Newfoundland itself.


Chris Smith
Stephenville

The dismal future of our province and the lack of opportunity portrayed by the media (Brain drain). Also the lack of community sponsored activities in which youth can occupy themselves with


Steven Duffy
Port au Port

I think the number one problem in today's society is AIDS.


Amanda M. DeLodder
Port au Port

I feel there is a lot of peer pressure for teens today as they are being pushed about for doing drugs, sex, and many other serious problems. This to me seems unfair for youth of any age.


T. J. Mackey
Port au Port

The pressures of having a healthy sexual identity. There are a lot of pressures to have sex in our society.


---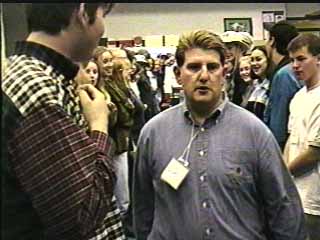 ---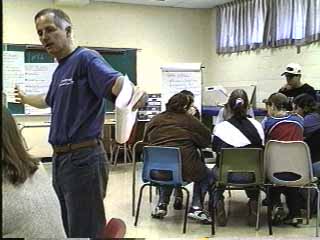 ---
---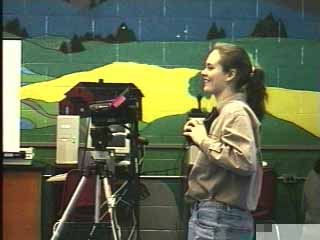 ---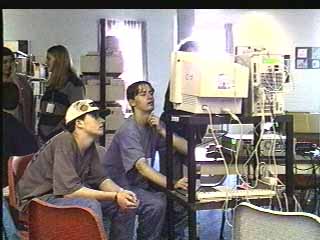 ---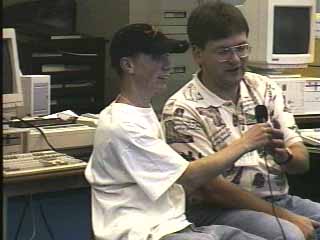 ---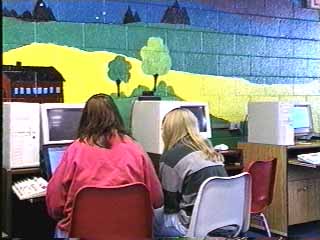 ---
LISTEN TO US!



David Tucker,
Kippens

One big issue for Newfoundland youth today is our futures in general. Most of my friends, and myself in particular are very worried about where to go and what to do after school. I don't even know what I want, let alone where to do it and how to pay for it.


Alicia Smith,
Stephenville

One big issue for Newfoundland youth today is sexuality. I feel that most youth's are pressure into it by others. Some feel it's the only way to fit in with the crowd. They think everyone is involved, however, in some cases they're wrong.


Alison Garnier and Kellee Bennett,
St. George's

A big issue for Newfoundland youth today is in regards to self-esteem and self-confidence. Many youth feel down on themselves due to society's attitudes towards perfection.


Amanda Penney,
Stephenville

I think that the government should initiate some reforms to our education system to enable us to be competitive with students across Canada who are going to the same universities as many of us will attend.

Jennifer Duffenais,
Kippens

James Gallant,
Stephenville

Kayla Bennett,
St. George's

Jessica Bennett,
St. George's



---
CHECK THIS OUT!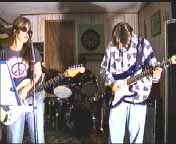 OKAY, TO WATCH A MUSIC VIDEO BY BURGEO TEENAGE BAND CREVASSE, ALL YOU HAVE TO DO IS CLICK ON THE PHOTO.
Wait! First you have to get your very own free Vivoactive player. It takes about three minutes on a 28.8 modem. Just click on the VivoActive button.
---

---
Hats off to HRD's Youth Employment Strategy.
http://www.youth.gc.ca
1-800-935-5555

---
What happened?
FRIDAY, OCTOBER 3
3 - 5 P. M. REGISTRATION
5:30 - 7 P.M. BARBECUE
7 - 9 P.M. WELCOME
8 - 9 P.M. YOUTH COUNCIL ROUNDTABLE DISCUSSION
9 - 10 P.M. SOCIAL

SATURDAY, OCTOBER 4
8:45 - 9:30 P.M. ICBREAKERS
9:45 - 12 P.M. WORKSHOPS
1. JOB SEARCH TECHNIQUES
2. LEADERSHIP
3. ISSUES AND OPPORTUNITIES IN ENVIRONMENTAL INDUSTRY
4. COMMUNITY TV
12 - 1 P.M. LUNCH
1 - 3:30 P.M. PRESENTATIONS
ENTREPRENEURSHIP/YOUTH PROGRAMS
YOUTH EMPLOYMENT PROGRAMS
3:30 - P.M. ELECTIONS FOR YOUTH COUNCIL

---